Details
Stop spending your valuable time making price adjustments, assigning categories, creating custom options, and other monotonous tasks.
Use Magento Bulk Product Updating and apply these edits in bulk across your entire catalog
. Magento Bulk Product Actions makes completing these tasks quick and easy. The extension will pay for itself in the time you will save managing your store!
With bulk product editing there will be many new Magento mass product actions that will allow you to make mass changes to many products in your product grid. Even more compelling is this extension works great with our
Magento Product Grid
extension!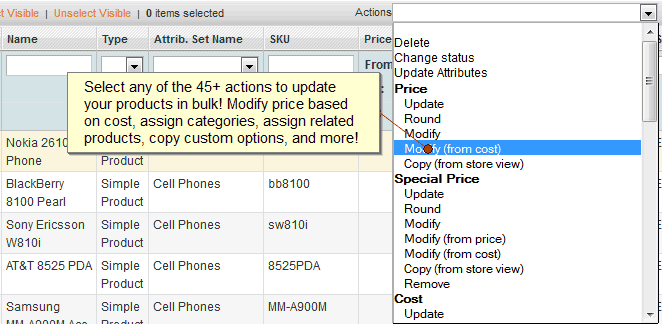 Additional Information
| | |
| --- | --- |
| PHP min version | No |
| PHP max version | No |
| After Description HTML | No |
| After Feature List HTML | No |
| Estimated Availibility Date | No |
Customer Reviews
Easy installation, and within a few minutes the work, that otherwise would have taken days, was done. Very recommended. (Posted on 1/2/2015)
Wow! This extension is great and has been a life saver to update prices. I requested a duplicate product feature be added and it was added within 24 hours. Great service extendware! (Posted on 9/3/2014)
Such a great time-saving extension and support has been absolutely fantastic. Thank you John! (Posted on 7/28/2013)
I have been using this extension for 3 months and I highly recommend it! The feature-set is very complete. I mostly use it for changing prices on many products and in this it is extremely flexible. John even added a custom feature for me! (Posted on 3/25/2013)
I have already used this extension for several months. The only thing it was missing was cost based pricing. I mentioned the feature to John and he implemented it in under 24 hours. I have been beta testing it and it is working great. Great extension, great support, and a true time saver. This company has a new loyal customer. (Posted on 10/8/2012)
I use this extension to set the prices for our wholesale shop. It makes it so much faster. I do not know how I lived before this extension. So much time saved! (Posted on 7/1/2012)